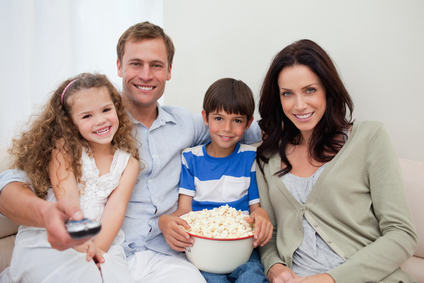 While regular date nights are invaluable for keeping relationships healthy, they're not always easy to plan—especially if you have kids.  Babysitters must be hired and paid, bedtimes will inevitably be missed, and some youngsters tend to become weepy upon being separated from their parents. A possible solution? Take your kids on a date with you. At least sometimes.
In a strong and happy relationship, it's important to find time to spend alone with your spouse. However, if you want a strong and healthy family, you also need to find time to spend with your entire family—mom, dad, and kids included.
With your busy work schedules and your kids' equally busy Little League, play rehearsal, and homework schedules, chances are you aren't spending as much time with your spouse and children as you need. For families to thrive, everyone must carve out time in their schedules to be together as a family.
A family date night is a great place to start. Here are three ideas for fun, easy, and affordable date nights that can strengthen your relationship and communication with both your partner and your kids.
Make-Your-Own Pizza Night
Though most family members will attest to pizza's tastiness, not everyone will agree on the best pizza toppings. Conquer this age-old problem by letting everyone make their own personal pizzas with the ingredients that they want.
To conduct a pizza night, supply each family member with their own dough, and set out bowls of sauces, cheese, and toppings. In addition to standards like pepperoni and olives, try including some unique items such as pineapple and mango slices. Kids and parents alike will bond over cooking together and trying out unusual topping combinations.
Backyard Movie Night
A good movie can be appreciated at any age, but taking an entire family to the theaters can be a pricy endeavor. A backyard movie night is a more affordable, more intimate option.
How do you do it? Take a family vote to decide on a movie everyone will like before renting your selection. If you have a projector, you can put a sheet over your fence to display the movie. Alternatively, you may be able to simply wheel your TV outside or watch the movie on your laptop. Once you figure out your viewing set-up, whip up a giant bag of popcorn and place sleeping bags in the backyard  before snuggling up to watch your movie under the stars. Need some family-friendly recommendations? Wall-E, Jumanji, and The Goonies are some favorites among all age groups.
Karaoke Dance Night
No karaoke machine or disco lights necessary!
Simply dim the lights and pull up favorite tunes on your computer. Sites like YouTube will have karaoke versions of most songs, so everyone can follow along with the words on screen. Take turns playing DJ, so each family member has a chance to share their favorites. By singing and dancing together, family members can relax their inhibitions and feel closer to each other.
For more family date night ideas, or for further assistance strengthening your family's relationship, contact a Houston relationship therapist.
https://www.houstoncounselingmarriage.com/system/wp-content/uploads/Depositphotos_11210239_xs.jpg
283
424
Damian Duplechain
https://www.houstoncounselingmarriage.com/system/wp-content/uploads/houston-logo2-1-1.png
Damian Duplechain
2014-11-19 09:00:11
2014-11-14 16:32:45
Houston Relationship Therapist: Date Night with Kids